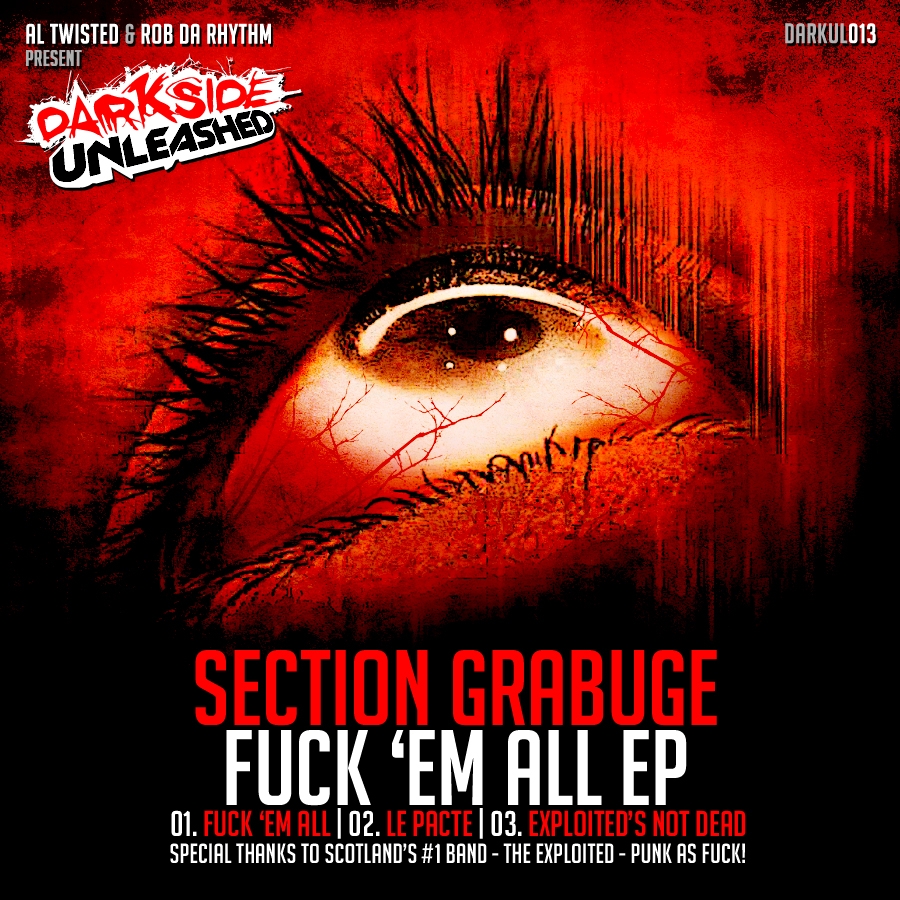 Artist: Section Grabuge
Title: Fuck 'em all
Released: 05-Apr-2012
Catalog: [DARKUL013] Darkside Unleashed
Tracklist:
1. Section Grabuge - Fuck 'em all
2. Section Grabuge - Le Pacte
3. Section Grabuge - Exploited's not dead
My favourite Frenchmen are back, and this time not on their home label Cyberkoin, but on Al Twisted & Rob da Rhythm's : Darkside Unleashed.
Fuck 'em all
This one opens up with the vocals which were used on Hardcore Radio for several years, and they always made me chuckle. The vocals are scrambled and used in the typical Section Grabuge way, wich is slamming them in your fast really hard. Ofcourse we hear the kick we have been hearing in most of their releases.
Le Pacte
Opening straight away with kicks loaded with distortion and overdrive, kinda sounds like the kick used often by the Genesis Projection, who also released EP's at Darkside Unleashed . Ofcourse a nice dose of vocals and distorted guitars.
Exploited's not dead
The same old Section kick, but this time at quite a lower tempo. Gives the kick more of a feeling it's rolling towards you, wich is pretty nice. I do get the feeling the kick is being pushed a bit to the background a bit by the other sounds.
Section Grabuge does what i expected them to do, deliver another slamming EP. Their style is still remarkable, they really have their own trademark. This will surely be in my playlist for a while.
You can buy this, and other EP's at:
www.hardtunes.com
If you'd like to check it out before you purchase, visit our Youtube channel:
http://www.youtube.com/user/Semprosmusic